You Recently Invested In A Start-Up. What Happens Next?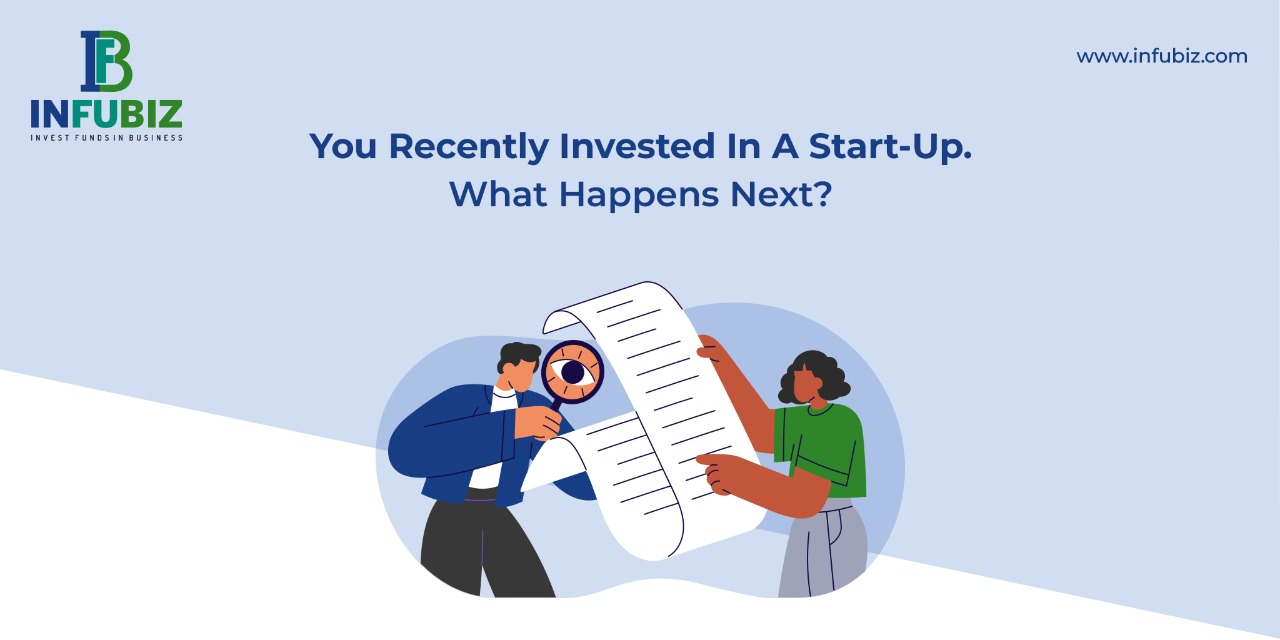 | (0) Comments |Author :INFUBIZ FOUNDER
Congratulations on backing up an entrepreneurial dream! The next obvious step for the
start-up
will be to use the funds to plan its growth. However, it will do so depending on the stage during which it has raised funds, i.e.
bootstrapping
stage (i.e. using own funds or receiving funds from friends, family and angel investors) or
venture capital
phase or
initial public offering
(IPO). In case you have recently invested in a start-up through a start-up investment platform, such as
INFUBIZ
and are wondering how your funds will be routed, we are here to guide you. In this blog, we will walk you through a generic journey of a start-up after receiving funds from an
investor
.
Bootstrapping Stage / Early Revenue Stage
If a business is in the bootstrapping stage then it will use the funds to:
Set Up An Office:
The company budgets for its office expenses and decides whether to purchase or lease office space or work out of a garage or at home. Next on the task list is procuring the necessary office furniture, equipment and supplies to run their business comfortably.
Hire Talent:
It becomes imperative for the business to hire the right talent to justify the funding and ensure the goals are met as assured to the investor(s). Herein, business founder(s) may either set up elaborate interview sessions with the help of recruitment agencies or leverage platforms, such as LinkedIn to get a competent and/or experienced workforce.
Production and Marketing:
Next, the business founder(s) chart out an elaborate plan to develop/enhance/expand their product/service. This requirement may entail setting up a manufacturing plant and purchasing raw materials and supplies necessary for the manufacturing. Additionally, the business needs to sell, market and promote its product/service through appropriate sales channels. Also, to be counted in this stage are the expenses that would go into attending various networking events or corporate seminars to meet/entice distributors, build new business contacts and develop a healthy customer base.
Venture Capital Phase
For Series A and beyond (of the venture capital phase), the funding would help to:
Team Expansion:
As the company grows, more people will be needed to handle areas of the business. Herein, depending on the complexity or the scale of the business, the business founder(s) may either hire a few specialised employees at a higher pay scale or numerous generic employees at a lower pay scale. At this stage, they may also consider hiring someone with the designation of a CEO to take the company from the startup phase to being ready for phase 2 growth.
Expand the Office Space:
With a larger team comes the need to have a larger office space, more equipment and miscellaneous other items that are critical for smoother functioning of the office. This requirement could either mean moving to an entirely different location or buying more desks in a co-working space.
Purchase Inventory:
For a manufacturing enterprise, the influx of more funds usually translates to more manufacturing, thus necessitating the purchase of more inventory or advanced inventory.
Market Expansion:
In this stage, the core idea of receiving funds is to promote the product/service as much as possible and gain a competitive edge in the market to attract more customers. This means spending money on areas, such as marketing, sales, and PR. It also means building new partnerships for sales and distribution and purchasing underperforming enterprises.
Research &Development:
Many startups focus on allotting their investment to finetune their product/service, expand their portfolio, for A/B testing, conduct market surveys, hire people to test the product/service and give feedback. Often, such processes involve developing a new set of code, developing new technologies or updating an existing technology.
Legal:
Ensuring that all legal documentation is done as per the law of the land and is in the proper place is critical for all startups. Hence, it becomes imperative to seek legal expertise. Failure to hire a specialist for legal matters could lead to suspension/closure of operations or invitation for lawsuits.
To Conclude
Your investment into a start-up certainly is routed into one or more areas. However, if you have the right assistance and partnership then you could be assured of your investment meeting its returns smoothly.
INFUBIZ
connect start-ups to investors and have built a robust technological ecosystem for the start-up industry wherein investors could offer investment opportunities effortlessly with just a few clicks. To know more,
connect
with us today.
---