Expand Start-up Investment Possibilities With Digital Fundraising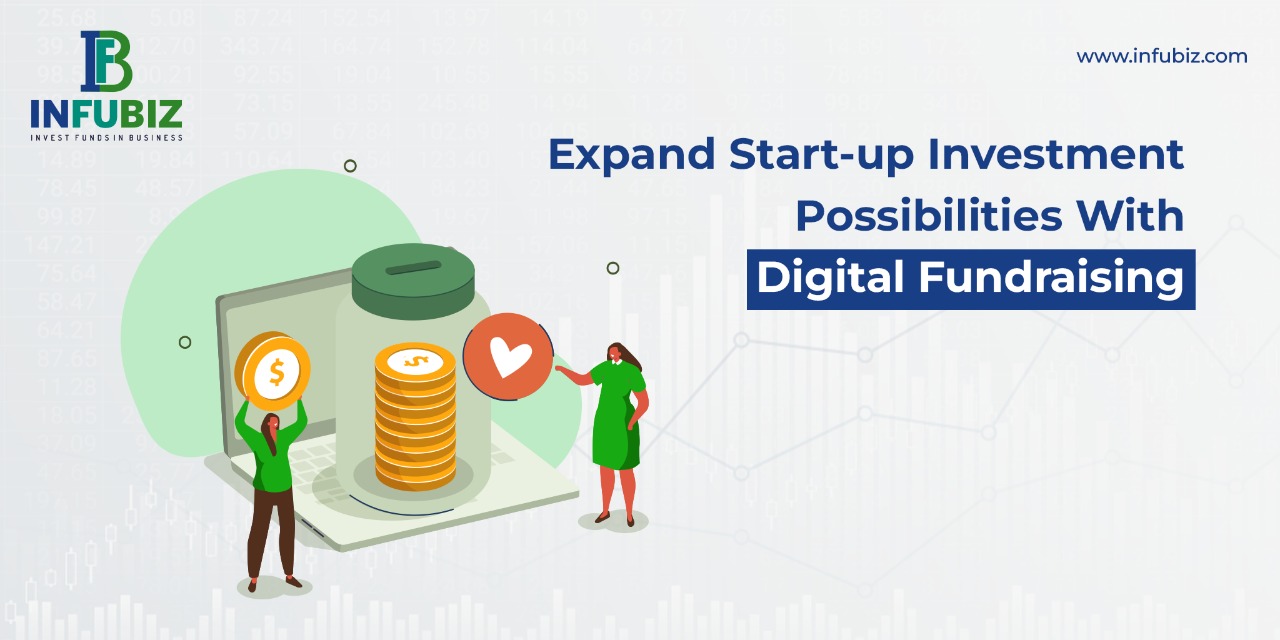 | (0) Comments |Author :INFUBIZ
Raising capital for start-ups is difficult and laborious. Even if the business shows strong growth and high-profit margins. Common challenges are:
Need for a track record to attract investors' attention

Finding the investor who is excited by the start-up idea

Getting the investor to commit to the start-up

Delivering the perfect pitch every time

Agreeing on Company's Valuation
When start-ups pursue venture capitalists (VCs) and banks for money, typically, they run from one pitch meeting to another, many times with zero or negligible indications of success.

On the other side, investors are not always successful in finding start-ups that meet their interests and domains of preference.

This is where digital fundraising comes into play. This blog explains how digital fundraising is an exciting approach for both start-ups and investors. Next, it throws a spotlight on Infubiz as an excellent platform for digital fundraising.
What Is Digital Fundraising?
Digital fundraising is an online match-making platform for start-ups and investors. Here are some key reasons why it scores over traditional fundraising.
No barrier to entry for start-ups

Convenience in starting a campaign with regard to time and effort

Lower costs of setting up a campaign in comparison to the traditional fundraiser in person

Feasibility to set up the campaign for specific groups of interested investors

Feasibility to set up the campaign for specific groups of interested investors

24x7 availability for fundraising. There is no waiting time between campaigns. Start-up data and pitch is more accessible to investors online as and when they want.

Increase in the rate of fundraising as more investors can contribute with small amounts

Transparency for investors to observe and monitor the utilization of their funds
2022 witnessed a slowdown in fundraising due to higher market volatility caused by unprecedented global inflation and the ongoing Foreign Country conflict. The first 6 months of 2023 could continue to be challenging.

If the recession in the US turns mild then investor sentiment could improve. Nevertheless, even with a bounce back in markets, start-up fundraising could continue to remain challenging.

In such a scenario, digital fundraising holds the potential to widen fundraising chances, as it is geographically borderless and reaches out to a larger pool of investors 24x7. Furthermore, interested investors can choose to make minimal investments, and help the start-up get started.
Digital Fundraising With Infubiz
Infubiz is a start-up investment platform where investors can invest as low as ?5,000 in start-up companies through the platform. For new-age start-ups, Infubiz aims to enable them to raise funds in the shortest time span so that they get more time to focus on their innovation.

Benefits of investing through Infubiz:
For Investors

For Start-up Innovators

Instant signup

Instant onboarding

Fundraising in the shortest time

Investment opportunities starting as low as 5,000

Greater visibility for the company brand amongst a community of investors

Access to a dedicated start-up investment platform

Ability to overcome negotiation on dilution ratio

Opportunity to browse diverse innovative start-ups

Instant fundraising enablement with technology automation

Long-term investments with a higher chance of good ROI

Easy and quick end-to-end fund-raise process

Investors can invest in industries of their choice: B2B software, eCommerce, Healthcare Tech, Artificial Intelligence, Fintech, EdTech, and Supply chain management.

Infubiz is accredited as India's first Mobile App for start-up investment.
Investors can download the Infubiz app on Google Playstore or App Store: https://www.infubiz.com/app
Conclusion
The Indian start-up ecosystem lacks scalable investment opportunities. Infubiz through its dedicated start-up investment platform aims to reduce this gap and make start-up investments accessible to everyone, i.e. people beyond angel investors. To know more, visit us today.


---