What's The Difference Between Business Incubators And Start-Up Accelerators?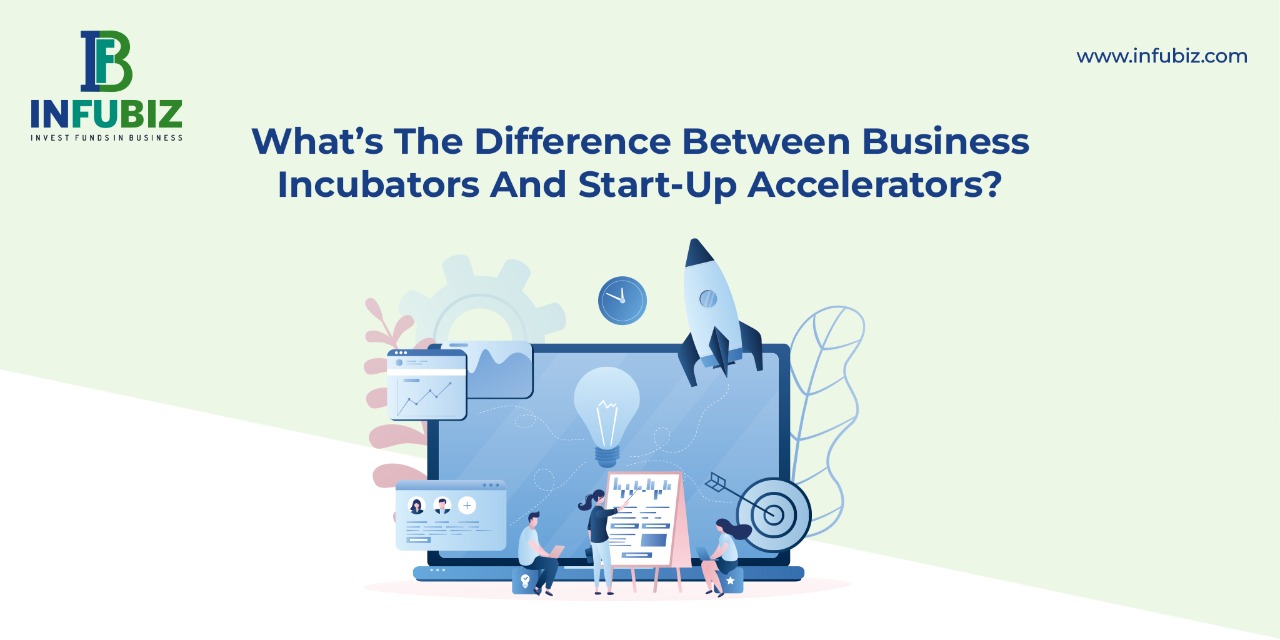 | (0) Comments |Author :INFUBIZ
What's The Difference Between Business Incubators And Start-Up Accelerators?
You would commonly come across terms, such as start-up accelerators and business incubators. Both help to grow start-ups yet they differ in objective and execution. This is why, these terms are used in exchange for each other, leading to confusion. However, it helps to know the difference between the two, to gain a good understanding of the role of these entities in developing a start-up. Read on to unravel the differences.
Business Incubator v/s Start-Up Accelerator
Parameter
Business incubator
Start-up Accelerator
Definition
A collaborative program designed to help a start-up to develop until it is able to sustain itself in the market.

Incubators are similar to courses that help gain learning from scratch.
An organisation designed to guide, mentor and offer financial & non-financial support to a start-up.

Accelerators are similar to crash courses that help speed up learning tremendously in a short span of time.
Objective
Focus on birthing an idea. Hence, they get the name - incubator.

For a business incubator, offering long-term guidance is the agenda. They focus on structuring the business idea and making it worthy of attracting investors.

A business incubator focuses on stimulating innovation.
Focus on scaling up businesses. Hence, they get the name - accelerator.

For a start-up accelerator, giving structured guidance is the agenda. This guidance is usually taken from the Best Practices that other successful ventures have followed.

A start-up accelerator focuses on giving wings to an innovation.
Stage of entry
Support early-stage start-ups that are in the product-development phase and do not have a developed business model.

Business incubators help start-ups transition their ideas into a business model and eventually into a working business.
Support existing companies that already have a minimum viable product (MVP) and have a developed business model
Parentage

Universities
Non-profit organizations
Government-run economic development organizations

Private and Public Companies

Eligibility criteria
Take in start-ups in larger numbers and are less selective. The key component that a start-up needs to gain entry into an incubator is a valid business idea.
Take in start-ups in smaller numbers and are restrictive.

Herein, mentoring by the legacy company is a distinctive part of the training. So, to gain entry into the accelerator, the startup must show some initial traction and market numbers.
Support specifics
Provide start-ups with resources, such as:

Free office space
Equipment
Mentorship
Manufacturing
Initial financial support
A collaborative community
Financial advisory/ Intellectual property teams/ Legal advisory
Networking opportunities with angel investors and venture capitalists


Incubators offer open-ended and long-term support, i.e. they tend to keep in touch with the start-up with regard to offering support even after the business has been established.
Provide start-ups with resources, such as:

Free co-working space
Mentorship
Seminars and workshops
Legal guidance to secure intellectual property
Networking opportunities with industry influencers and potential investors
Funding




Start-up accelerators offer close-ended and short-term support, i.e. after the start-ups achieve the specified growth target, the accelerators focus on another start-up at hand.
Seed funding
Don't provide ventures with a seed investment
Provide ventures with a seed investment in exchange for an equity stake in the company

Generally, accelerators provide in-house funding. They tend to have a large network of venture capitalists and angel investors to facilitate quick funding.
Time frame
Develop their ventures on a slower timeline - 1 to 2 years.
Develop their ventures on a faster timeline - 3 to 6 months.
Examples
Here is a list of some popular business incubators in India.

NSRCEL
CIIE
IAN Incubator
Nasscom 10,000 Startups
IIMK Live
iCreate
T-HUB
Khosla Labs
91 Springboard
Social Alpha

Here is a list of some popular start-up accelerators in India.

DevX
India Accelerator
Indian Angel Network
500 startups
Techstars Bangalore Accelerator
Marwari Catalysts
Microsoft Accelerator
GSF India Accelerator
9Unicorns
JioGenNext
To sum up
If you are a start-up that needs initial handholding, a business incubator is your right destination. But if your business is already in production and needs some laser-focused guidance and support to elevate your positioning, then a start-up accelerator is what you must approach.
Visit
Infubiz
to give flight to your business dreams. We are a modern start-up investment platform that connects start-ups to investors easily and effortlessly. Sign up instantly and get access to 100% fund-raising seamlessly online.
---